CleanSky
CleanSky is the most ambitious aeronautical research programme ever launched in Europe. Its mission is to develop breakthrough technologies to significantly increase the environmental performances of airplanes and air transport, resulting in less noisy and more fuel efficient aircraft.

Overview
The CleanSky JTI (Joint Technology Initiative) was born in 2008 and is one of the largest European research projects ever, with a budget estimated at €1.6 billion, equally shared between the European Commission and industry, over the period 2008 - 2013. The objective of this unique public-private partnership is to speed up technological breakthrough developments and shorten the time to market for new solutions tested on Full Scale Demonstrators.
Considering that aircraft have a 30-year service life and that new aviation design takes more than a decade to develop, the accelerated research process that CleanSky offers represents an unprecedented opportunity for rapid progress in the introduction of green technology into aviation.
CleanSky will demonstrate and validate the technology breakthroughs that are necessary to make major steps towards the environmental goals sets by ACARE - Advisory Concil for Aeronautics Research in Europe - the European Technology Platform for Aeronautics & Air Transport and to be reached in 2020:
50% reduction of CO2 emissions through drastic reduction of fuel consumption
80% reduction of NOx (nitrogen oxide) emissions
50% reduction of external noise
A green product life cycle: design, manufacturing, maintenance and disposal / recycling
CleanSky encourages the participation of SMEs such as SustainAvia to ensure their full involvement in the programme, therefore offering opportunities to the entire aeronautic supply chain from all EU Member States and Associated countries.
From ACARE goals to Technology Domains
In order to address the ACARE environmental objectives, a number of technology domains have been defined and will constitute the scope of the Clean Sky programme.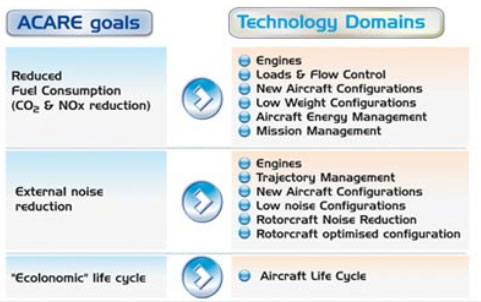 From Technology Domains to Integrated Technology Demonstrators
All those technology domains have been integrated within Clean Sky into 6 Demonstrators, the ITDs (Integrated Technology Demonstrators) and one Technology Evaluator.
Funding
Clean Sky JTI was born in 2008 with a budget of € 1.6 billion, contributed to on a 50/50 basis by the Commission (in cash) and the aeronautical industry (in-kind contribution). ITD Leaders commit up to 50%, Associates members up to 25% and Partners (through Call for Proposals) a minimum of 25%.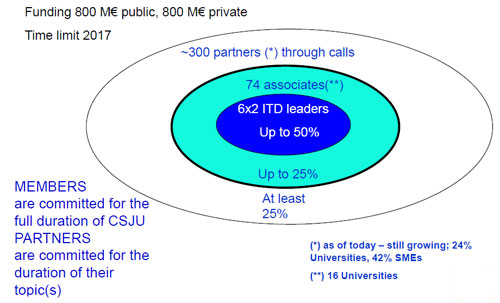 Participation of SustainAvia
SustainAvia participated in three CleanSky projects:
Project CARING (Contribution of Airlines for the Reduction of Industry Nuisances and Gases) aimed at understanding how airlines deal with current and future environmental constraints (emissions and noise).
Project BASE (Business Aviation for a Sustainable Environment) sought to understand how environmental constraints affect business jet operators and attempted to work out strategies on how to make business jet operations greener.
The aim of Project FRARS-2 (Future Regional Aircraft Requirements Survey – Part 2) was to conduct a survey of airlines' high-level requirements for future regional aircraft, with specific focus on American, Asian and African operators.